National Advice available
28th June 2019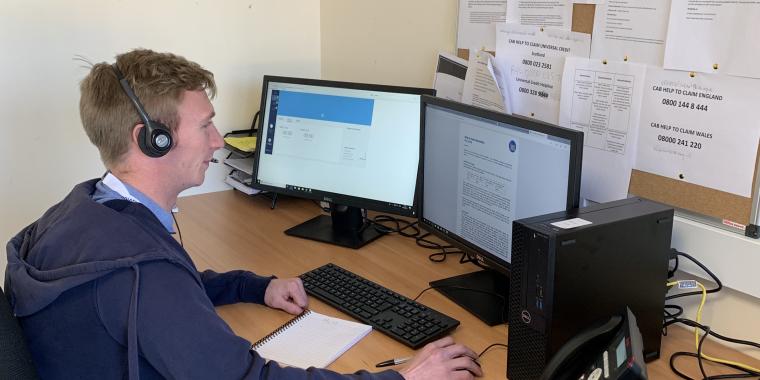 National Advice available at a local level for Universal Credit and Financial Health Checks
A new national telephone and webchat advice service is being delivered by 39 Citizens Advice Bureaux all across Scotland and East & Central Sutherland CAB are delighted to be involved, employing 2 people locally to help deliver the service. The Multi-Channel Hub will provide help if you need help to make a new Universal Credit claim or if you would like a Financial Health Check.
The Help to Claim line is there if you're thinking about claiming Universal Credit for the first time. Advisers can talk you through creating a new email address, preparing for a work coach appointment, sorting evidence for a claim and finding internet access and these are just a few of the things that we can assist you with.
A Financial Health Check can help you if you are struggling to make money last or worried about how to pay the bills. We can check if you're receiving the money that you are entitled to and also look to make sure you aren't paying over the odds for services.
The service offers national telephone helplines and a web chat service, giving you an opportunity to ask a quick question or receive some guidance regarding making a universal credit claim. We can also refer you to your local Citizens Advice Bureau to arrange a face to face appointment, ensuring you can get face to face support when needed.
The service opens at 8am and once we've logged in we will be put into a national queue were we might receive either a Help to Claim call or webchat or a Financial Health Check call. The call/webchat that we take could come from anywhere is Scotland as it is a national helpline so our 'Find your local bureau' tool comes in very handy. Some queries may only be just a quick question like wanting to know the website that they need to access to claim universal credit. Others may require step by step help completing the claim online or we could even refer them to their local bureau so that they can attend a face to face appointment. Once the telephone call or web chat is finished we update our case recording system so that all the details of the conversation are logged in case the client needs to phone back. After that it's then back into the queue waiting for the next contact. No call/webchat is ever the same so it really keeps the job interesting and very rewarding being able to make people feel more at ease when making a new universal credit claim or helping people to save money through a financial health check.
To contact the national services use the details below;
Help to Claim line 08000232581
Financial Health Check line 08000857145
Both lines are open from 08.00 – 18.00 Mon-Fri
Alternatively the web chat can be accessed by going onto www.cas.org.uk/helptoclaim and clicking on the chat with us icon. Web Chat is also available from 08.00 – 18.00 Mon-Fri
Steven Sinclair
Multi-Channel Hub Adviser